Hedonism Resort is Jamaica's Naughty Paradise
Hedonism Resort is one of the 1st clothing optional "lifestyle friendly" resorts we ever went to… and we are glad we did!
All drinks, food, entertainment and exclusive group activities are included in the price. No extras, no surprises, just good times and great people. Hedo was one of the very first "Super Inclusive" resorts in Jamaica and they have set the standard for a truly all inclusive experience.
There has been a lot of amazing renovations at the resort, giving it a fresh and modern feel. If you haven't been in a while, it's time to go back. If you've never been, what are you waiting for? Scroll down for lot's more info on one of our favorite resorts.
GROUP TRIPS
Our #1 piece of advice when booking a trip to Hedo (or any "Naughty Resort" is to find a group that is going that shares your same interests and age group and you'll have a better time. Here are some of our favorite Groups:
KINK Week
If you are into BDSM, then THIS is THE week you will want to head to Hedo. This is a great week for those searching for a Kinkier vacation.
Kasidie Krush
The folks at Kasidie.com host this annual blast in Negril. We know the couple that puts this on and they are some of our favorite people. Join them for an amazing week…
Champagne Club Week
The Champagne Club is one of our favorite clubs, so we'd recommend this week because we know that Eric & Melissa know how to "Bring It!"
Ms No Swimsuit
We have been going to this week for over 16 years. Our Ms Naughty won in 2018! Come cheer on this year's contestants and you can even vote for the winner.
About Hedonism Resort
YOU GET SO MUCH BANG FOR YOUR BUCK
One of the greatest pleasures in life is indulging in our most hedonistic desires. From that extra slice of decadent chocolate cake or a lobster tail smothered in lemon butter, an extra shot of 12 year old rum in your punch to a sensual midnight tryst in the pool and then the Playroom …Go on and GO FOR IT.
ALL INCLUSIVE, ALL FUN
Hedonism II is all about unadulterated self-indulgence that tantalizes all your senses. From your gourmet dining and drinking experience to your entertainment options. Open access to an adult playground nestled in the silky white sands of sunny Seven Mile Beach any day, any night-anytime. prepare yourself to experience pleasure in paradise with all-inclusive amenities including:
Gourmet Dining 20 hours a day

4 Restaurants, 2 Grills – No Reservations Needed

Premium Liquor & Access to All 5 Bars

Complimentary Wifi

6 Pools & Hot Tub's

Daily Games and Beach Activities

Nightly Shows, Night Club, Theme Parties & Entertainment

Access to Romping Shop Playroom *

Fully Equipped Fitness Gym

Au Natural and Clothing Optional Beach

Live Singalong Piano Bar

Sauna, Steam Room

Tennis, Beach Volleyball, Pickle Ball

Scuba Diving**, Glass Bottom Boat Rides, Snorkeling, Sailing, Kayaking

Destinations Wedding ***
IN THE WATER
Jamaica's clear turquoise waters provide you with an unforgettable aquatic playground. Enjoy a vast array of experiences, sail, kayak, paddle-board, snorkel or Scuba dive with our extensive array of all-inclusive water-sports. With our top-of-the-line equipment, professional staff and unparalleled tropical location, Hedonism II offers endless opportunities. Our location on one of Jamaica's most spectacular beaches provides the perfect setting.
Amenities include:
Scuba Diving, Hobie Cat, Windsurfing School, Sunfish Sailing, Snorkeling, Kayaks and Paddleboards
NIGHTLY ENTERTAINMENT
Entertainment is arguably at the heart Hedonism II. The entertainment program was specially designed with the perfect combination of seduction and sensuality whilst keeping faithful to our unique ambiance.
Hedonisms II's talented entertainment crew will take you on voyeuristic journey of hidden passions, sensuality and seduction. Experience the sexy thrill ride full of sensational acrobatics or the provocative playful milk bath. Our shows are designed to take your breath away, featuring talented singers, musicians and dancers performing unique engaging routines in extravagant costumes. Experience every night on the center stage in the Main Terrace Dining room.
GOURMET DINING
Deliciously Intimate. This is Jamaican world-class dining designed just for you. From our signature buffet, offering a wide selection of local and international inspired cuisine, to the poolside comfort of the beach grill. The talented culinary team at Hedonism II ensures every meal is memorable. For an even more intimate private dining affair, opt for an impeccable private dining experience on the beach, surrounded by candles and listening to the ocean. The choice is yours and yours alone. Our world famous chef, Anthony Miller, prides himself on his unique and flavorful dishes using only the finest and freshest ingredients.
Every evening you will be invited to discover a sensual themed adventure, a seductive twist on reality, provocative, playful and an opportunity to experience the forbidden. Leave inhibitions behind you, let loose and live out your fantasies. Theme nights at Hedonism II Negril, Jamaica allow you to dress and act with total freedom, sexy, fun, and flirty, wearing a costume allows you to explore your wild side.
MONDAY- JAMAICA NIGHT
Jamaica themed party. Dress in the Jamaican colors Black, Green & Gold.
TUESDAY – BARE AS YOU DARE GLOW POOL PARTY
Dance under the stars and light up the night with all things glowing, blinking and flashing. Make a splash in your sexiest swimwear.
WEDNESDAY – FETISH NIGHT LEATHER & LINGERIE
One of the biggest and best event nights! Dress in leather & lingerie or whatever fetish you want to explore, then prepare to indulge your fetish fantasies.
THURSDAY – TOGA & FOAM PARTY
One of our most popular theme nights at Hedonism II, dress in your sexy toga for dinner, sign-up in the day to be a part of our talent show then hit the disco after our Toga Parade & Contest for our foam party at 11pm. Get slippery and wet in this high energy atmosphere. Dress Code – swimsuits or Togas.
FRIDAY – ROCK STAR
Ever wanted to be a rock star? Live out the fantasy in this fun filled theme night.
SATURDAY – SEXY SPORTS NIGHT
Show your Sexy team spirit in whatever sport that turns you on.
SUNDAY – HEDONISTIC SCHOOL GIRL
Break all the rules you never could! Wear your short plaid skirts. Principals, nerds, and jocks you can join in the education, too.
The possibilities don't stop on dry land. Hedonism II provides plenty of excitement for guests who don't want to get wet. Gather a few friends for a competitive beach volleyball game or enjoy tennis, day and night, on lighted courts surrounded by a lush tropical landscape. Whatever your heart desires you can experience it at Hedonism II. The options are endless, from a game of giant chess, pool in the pool or simply chilling out in one of our secluded hammocks or cabanas.
Our land activities include:
Lighted tennis courts
Tennis clinics with pros
Volleyball
Shuffleboard
Table Tennis
Secluded hammocks
Games room
Reading room
Outdoor games area
Gaming Lounge
Complete Fitness Center
Cool out gazebos
WHAT'S INCLUDED
HEDONISM II RESORT
Hedonism II breaks the boundaries of other Lifestyle-friendly, clothing optional resorts. Here, there's never too much of a good thing. People travel from far and wide to live out their fantasies and escape their inhibitions. Leave the mundane day-to-day behind, explore yourself as you explore the sensual and liberating environment of Hedonism II Negril, Jamaica.
Decide on a clothing optional resort or nude vacation and be no one but your beautiful self. At our resort you can:
● Sleep in and stay up late.
● Give up counting calories.
● Have a drink before noon.
● Dine in shorts.
● Talk to strangers.
● Don't make your bed.
● Go skinny dipping.
● Don't call your mother.
● Let your hair down.
Hedonism II is a sandbox for your inner child, and nourishment for the mind, body, spirit, and soul. With absolutely everything included in one upfront price, you never have to think about money—not even tips—just what to do next…And, if you desire – with whom!
PREMIUM SUITES
Indulge your every whim and fantasy in our completely renovated ocean and garden view rooms with expanded, fully glass-enclosed bathroom, seamless ceiling mirror, deluxe toiletries, refrigerator and hair dryer. And to complete your dream come true, a private outdoor balcony or patio in select rooms, some with a Hot Tub. (Hot Tub available in select Premium Suites) These sexy, ultra-lounge Premium Suites are now available for reservation
PRUDE OCEAN VIEW HOT TUB
TERRACE PREMIUM
Our stunning Premium ocean view guestroom features a flat screen TV, refrigerator and a fully glass-enclosed bathroom. As well as a modern ceiling mirror and sliding glass doors leading to a private veranda Hot Tub.
GARDEN VIEW AU NATURAL PREMIUM
Set among our tropical lush gardens, your Tranquil Garden Room offers sleek furniture, a flat screen TV and refrigerator, in addition to the classic ceiling mirror and Euro-style Hot Tub shower. A fully glass enclosed bathroom, modern ceiling mirror and sliding glass doors leading to a private balcony on second floor.
PRUDE OCEAN VIEW HOT TUB TERRACE
With breathtaking views overlooking our ocean front, your ocean view room has a flat screen TV and refrigerator, in addition to the classic ceiling mirror and Euro-style Hot Tub shower. Full length Sliding glass doors lead to a secluded private veranda Hot Tub.
OCEAN VIEW AU NATURAL
With breathtaking views overlooking our ocean front, your ocean view room is steps away from our magnificent beach, nude pool, swim-up bar and hot tub. It features a flat screen TV and refrigerator, in addition to the classic ceiling mirror and Euro-style Hot Tub shower.
Nude Beach Grill
Set on the edge of seven mile beach, Negril our nude beach is hidden in a secluded cove. Total beach length is over 1,000 feet long, with soft white sand. Loungers and towels are provided. Nude Beach Grill During the day the grill serves the standard grill options such as jerk chicken, grill cheese, nachos, grilled fish and more!
Clothing Optional Beach Grill
During the day the grill serves the standard grill options such as jerk chicken, grill cheese, nachos, grilled fish, and more!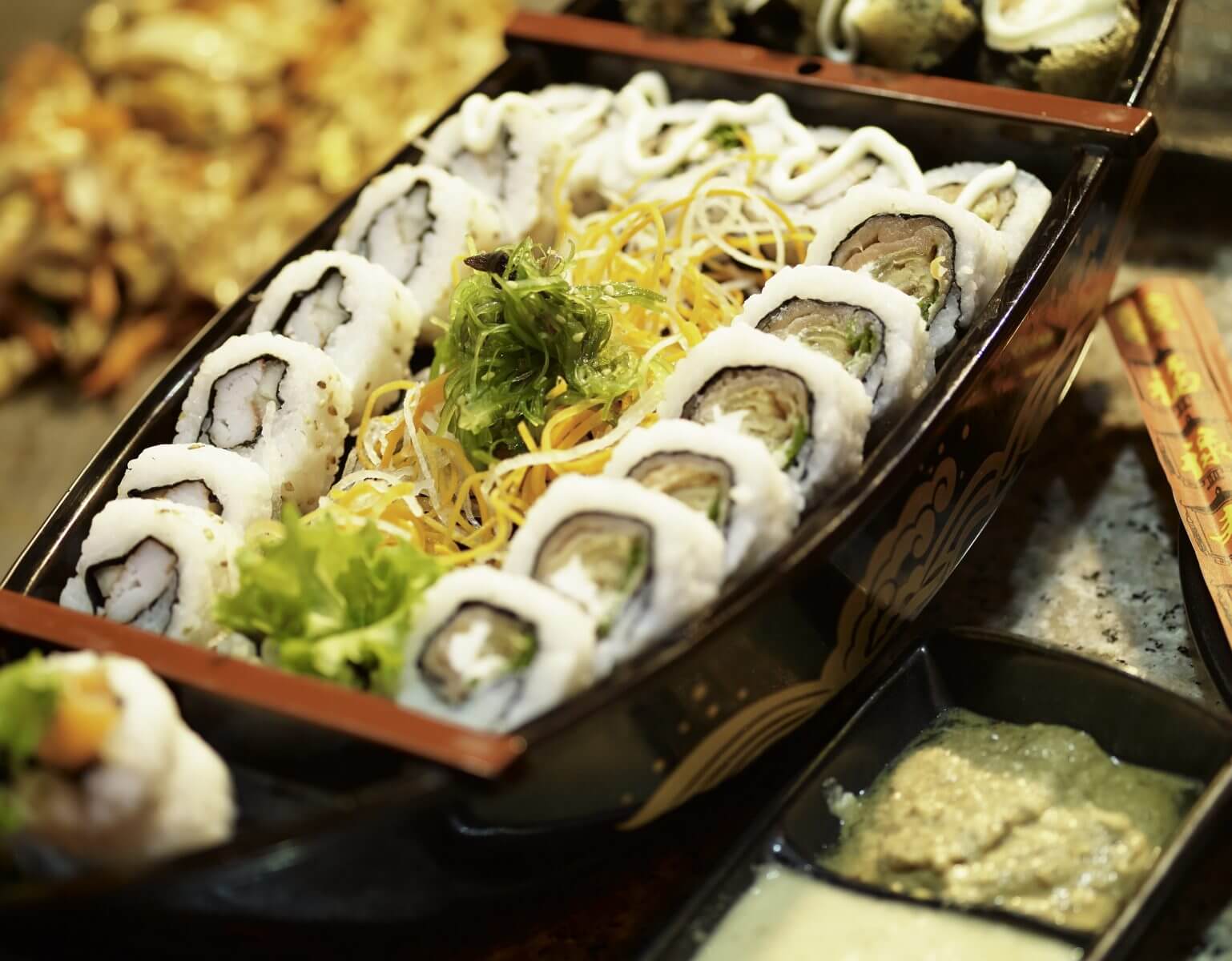 Enjoy the delicious theatrics of Innovative Japanese Teppanyaki style dining. Our team of talented chefs put on a show preparing high-quality ingredients at interactive, communal teppanyaki grill tables. Experience Teppan style dining with a polished display of culinary mastery, knife work, and exceptional ingredients.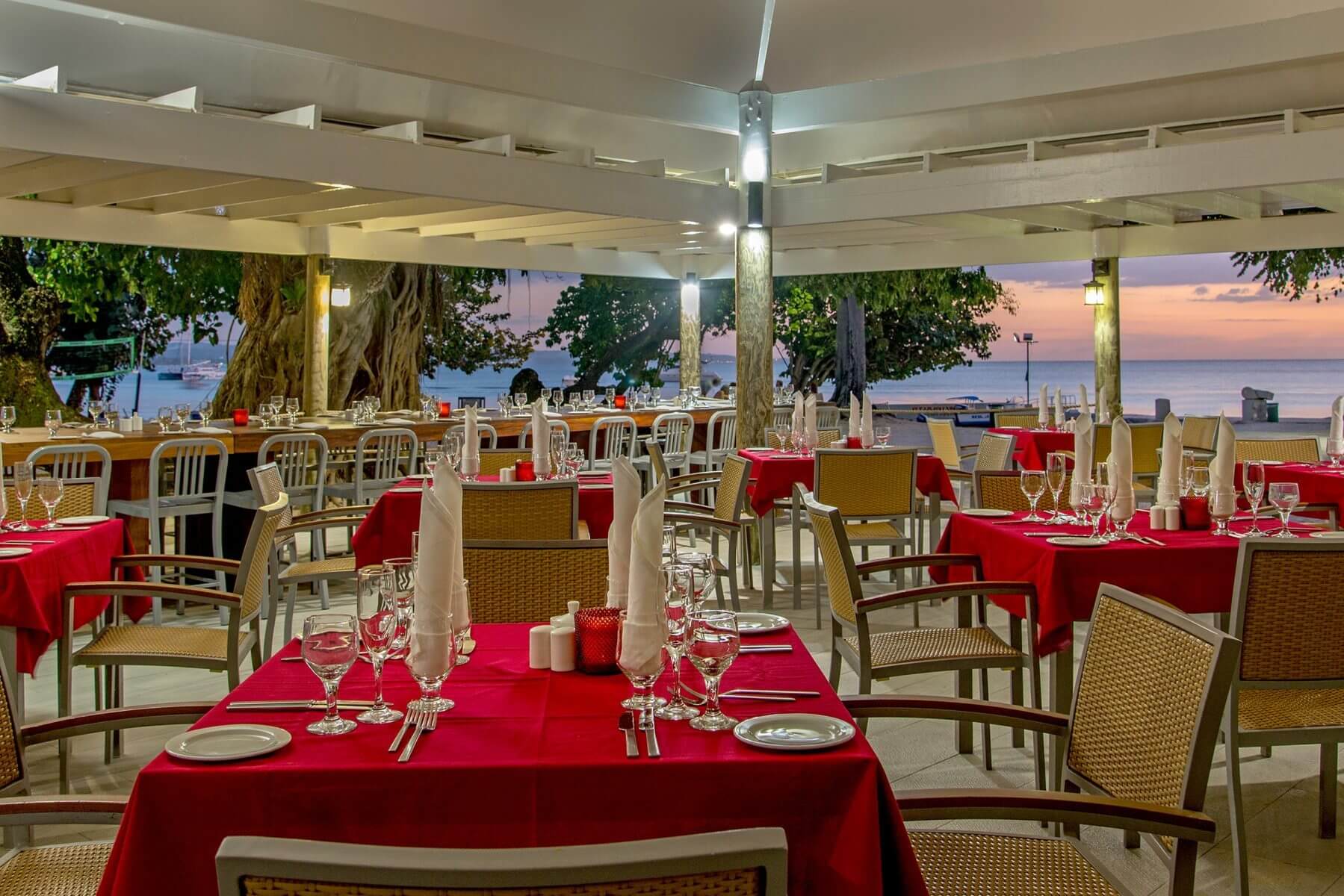 Join us beachside for a one of a kind, romantic, Jamaican chop house experience. Our newest restaurant, Flame adds an exciting flare with the hand selected ingredients. Flame feature juicy tender steak entrees and gourmet pizzas, among other specialty items. The menu is subject to some slight changes as various items are in and out of season, but rest assured each menu offering will be carefully chosen by Chef Anthony and his amazing Kitchen Staff.
– Open for dinner 7:00pm – 9:30pm
– Casual
– Closed Fridays
A culinary adventure, Pastafari is a unique Italian restaurant with a Jamaican accent to offer a truly unique dining experience. At each visit, we want it to feel as if yours is the only table in the room. The impeccable Italian fare stems from the Dishes' high-quality ingredients, such as freshly grated Pecorino-Romano and Parmigiano-Reggiano cheeses and fresh seafood.
– Open for dinner 6.30pm-10.00pm
– Closed Fridays
– Semi-formal (tailored shorts allowed)
Buffet-style breakfast, lunch and dinner
-Breakfast: 7:30am to 10:30am
-Continental Breakfast: 10:30am – 11:00am
-Lunch: 12:30pm to 3:00pm
-Dinner: 7:30pm to 10:00pm
We have 5 fully stocked bars featuring premier top shelf brands, including Grey Goose, Tito's, Patron, Crown Royal and even Fireball. Experience a classic martini or one of our signature cocktails created specially by our experienced mixologists. The local Red Stripe is always on tap as well as our famous pina colada with a rum float. Enjoy a mimosa for breakfast or a long chilled glass of sparkling wine before dinner.