Alaska Cruise
June 17-24, 2018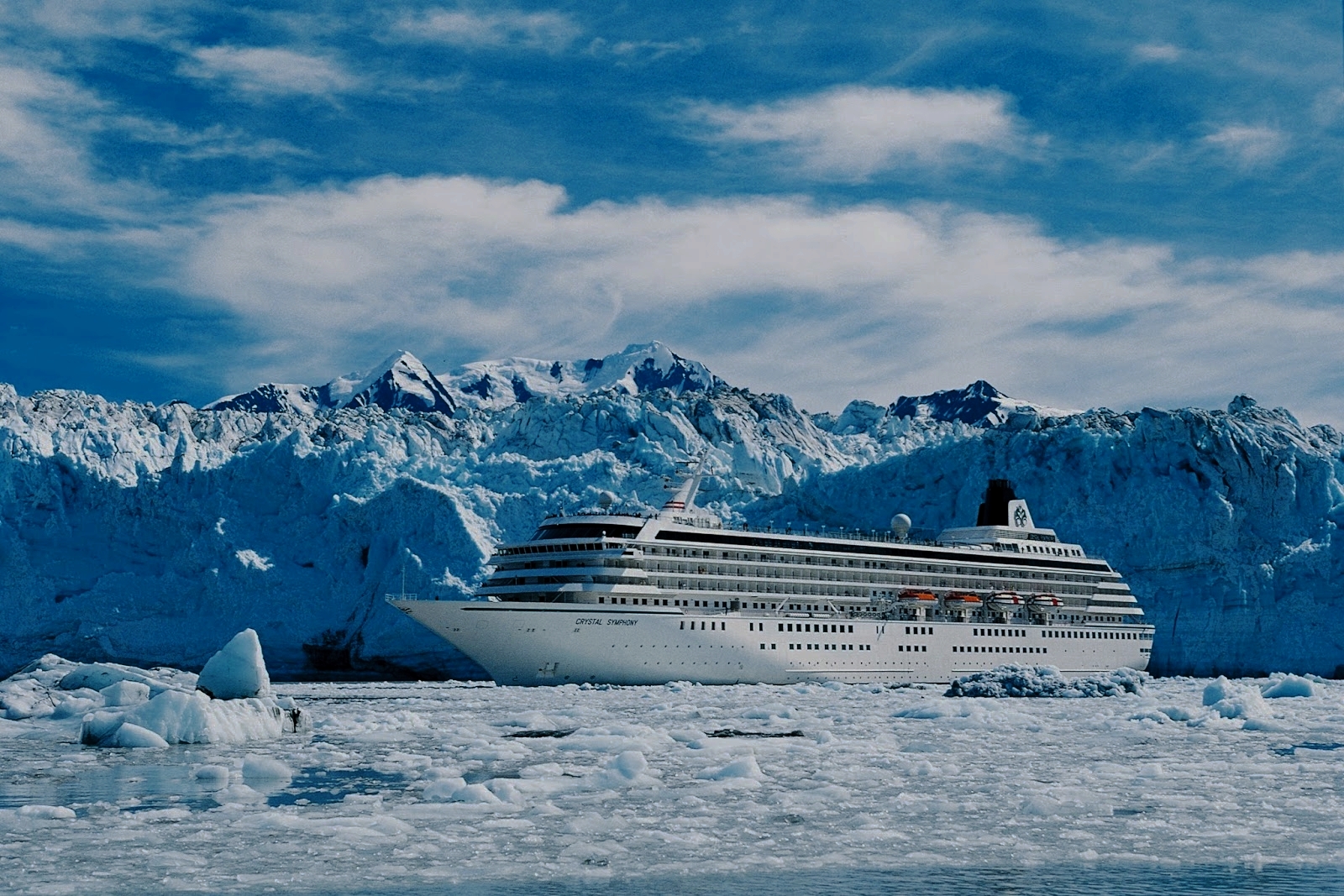 Crystal Symphony
The "Evolution of Crystal Luxury" will take place in 2017 and will see the Crystal Symphony reimagined to new standards of innovative luxury and technology. Crystal Symphony's redesign is set for September and October 2017.
The main highlights of the evolution include:
New penthouses replacing smaller staterooms
New dining options
Enhanced technology for guests
Modern décor updates in the public rooms
The ship offers a variety of activities including fitness programs, dance lessons, musical performances and treatments at the fenu shui-designed Crystal Spa, Salon & Fitness Center. As for accommodations, all offer ocean views and more than half are equipped with verandas. Each stateroom includes flat-screen TVs, minifridges and bathtubs. Those who choose Penthouse category rooms receive additional privileges like complimentary hors d'oeuvres, two hours of free internet access and butler service.
Previous cruisers also commended the ship's 9 culinary offerings, including a restaurant from Chef Nobu Matsuhisa and an exclusive wine-pairing dinner venue (for an additional charge).
Reimagined Public Spaces
With the ship going under many upgrades in 2017, several favorite shipboard spaces will enjoy reimagined designs, while maintaining their inherent function as part of travelers' onboard experience. Crystal Symphony's mid-ship Starlite Club, a hub for evening dancing and cocktails, will be refitted, still boasting panoramic sea views.
Avenue Saloon
Crystal's signature cocktail and piano bar known for its intimate "clubby" atmosphere.
Connoisseur Club
With an impressive selection ranging from Monte Cristo to Davidoff, this refined club-like cigar lounge is ideal for after-dinner drinks and conversation.
Pulse
Located near the Avenue Saloon and Connoisseur Club aboard Crystal Serenity, this high-energy dance club plays all the latest hits with a mix of long-time favorites.
About the Ship
US. News rated the Crystal Symphony as the #1 Luxury Ship in the world.
Thanks to a complete overhaul in 2014, Crystal Symphony boasts updated public areas, a redesigned spa and outdoor fitness garden as well as updated dining venues, a piano bar and a casino venue. Even with these features, recent cruisers say the 922-passenger ship (with 545 crew members) keeps customer service the top priority.
Sexy Entertainment
We will be bringing you special entertainers that will separate this cruise from any "vanilla" cruise. We will have sexy Cirque type performers, naughty piano bar singers, and shows specifically booked for our Adults-Only crowd.
Don't settle for the typical caberet type shows, expect more on a Naughty Cruise.
Summer Solstice
Alaska can be, well cold, but this cruise is planned during the Summer Solstice in Alaska, so it will be warmer, with more sun than any other week of the year.
June is the warmest month, with the least amount of rain. We will have an average of 18 hours of sunlight, perfect for enjoying more of the beautiful Alaskan scenery.
Temperatures should hit 74 degrees in Vancouver and will reach a high each day in the mid 60's while cruising in Alaska.
Spectacular Scenery
These are not your typical ports and this is not your typical list of excursions.
Even if you have been to Alaska before, there are so many divderse and amazing excursions to pick from, you would have to cruise Alaska 25 times to exhaust your "bucket list" of adventures.
The last frontier, Alaska has some of the most beautiful scenery and wildlife in all of America. Excursions will include helicopter rides leading to hikes on the glaciers to float plane trips over the mountains to a salmon bake.
Crystal Penthouse with Veranda
Bedroom
Inspired by the classic flats of London and the sophisticated style of Manhattan the Crystal Penthouse boasts every touch of modern luxury. Includes a large Bose VideoWave III flat screen TV, surround sound audio system, iPod docking station and more.
Master Bath
The master bath indulges with Italian marble mosaics, heated floor, dual vanity with glass vessel Kohler sinks, walk-in glass shower with heated marble bench, embedded TV in vanity mirror, and an award-winning Duravit spa floatation tub with ocean views.
Verandah
A spacious teak verandah is the perfect spot to watch the Alaskan scenery come into view. Whether watching wales go by or an amazing sunset that lasts for an hour, you'll have the perfect view from your plush lounge chair or table for two.
Penthouse Suite with Verandah
Living the "Suite Life"
This suite features a separate bedroom and living room area that can be opened up into one big suite. A walk in closet is also included.
Bathroom
The Penthouse Suite features beautiful marble accents and a full Jacuzzi bathtub with separate shower and bidet.
Living Room
There are ocean views from both the bedroom and the livingroom, which opens onto a spacious verandah featuring a table & 2 chairs.
Deluxe Stateroom with Verandah
Queen sized bed with a double sink and a bathtub/shower combination.
Comes with a wall closet and a verandah.
Deluxe Stateroom with Large Picture Window
Queen sized bed with a double sink and a bathtub/shower combination.
Comes with a wall closet.
Itinerary & Ports
ITINERARY - DISCOVER THE BEST OF ALASKA
Date Port of Call Arrival Departure
Jun 17, Sunday Vancouver, British Columbia, Canada 05:00pm
Jun 18, Monday Cruising the Inside Passage--
Jun 19, Tuesday Sitka, Alaska, USA 12:00pm 07:00pm
Jun 20, Wednesday Cruising Glacier Bay--
Jun 21, Thursday Juneau, Alaska, USA. 08:00am 07:00pm
Jun 22, Friday Ketchikan, Alaska, USA 01:30pm 07:00pm
Jun 23, Saturday Cruising the Inside Passage--
Jun 24, Sunday Vancouver, British Columbia, Canada 06:00am
our starting point & final destination
ports
An Alaskan cruise will do it with quaint seaside towns like Ketchikan and Skagway, and with stunning harbor vistas like Juneau's. Cruising Alaska will also give you a first-row ticket to the best of nature — including fjords, wildlife and mountains galore. "Oh, mother nature… now you're just showing off."
Sitka, AK
Sitka is a charming island community surrounded with stunning mountain and seaside panoramic views. The vast and rich wildlife boasts sightings of whales, brown bears, deers, sea otters, and various birds flock here. This destination offers superb fishing, and plentiful historical attractions.
Sitka is low on population, but jam-packed with amazing views of snow-capped mountains, lush green forests and Sitka Bay, itself dotted with an array of tiny islands.
Juneau, AK
Astounding ice-capped mountains welcome the cruising traveler to Juneau. Alaska is called the Land of the Midnight Sun, and its capital shines with a wide selection of delicious dining and native Alaskan art shopping.
One of the most beautiful capital cities in America, with once-in-a-lifetime shore excursions that include walking on glaciers, whale watching, and hikes through the country's last old-growth forests.
Ketchikan, AK
For more than 100 years, Ketchikan, Alaska has been the gateway to the North. Ketchikan cruises dock along the famed historic waterfront.
Check out the flourishing art scene and spectacular totem poles that have transformed this former frontier town into a popular southern Alaskan port of call. Experience the sights, atmosphere and excitement of the Last Frontier as soon as you cross the Alaska border on our Naughty cruise to Ketchikan.
Inside Passage
Mention an "Alaska cruise" and what comes to mind? Usually, the answer is the "Inside Passage." Why? This protected waterway is one of the most scenic in the world and one of the few locations where deep-draft vessels can sail close to steep mountain walls. Massive tidewater glaciers, forest-clad islands, ice-carved fjords, and charming coastal towns such as Juneau, Ketchikan, Haines and Skagway await you here.
Located right along the coast of British Columbia, the Inside Passage is the longest sheltered inland waterway in the world. Watch the water for orcas and humpback whales as you cruise the passage to the historic Alaskan ports of Juneau, Skagway and Ketchikan.
Glacier Bay
A destination eons in the making, Glacier Bay's pristine landscape makes it one of the top spots on an Alaska traveler's must-see list. Your Glacier Bay cruise takes you through this protected national park spread across 3.2 million acres of southeast Alaska… home to 15 active glaciers, countless seabirds, otters and humpback whales.
We will invite local park rangers to board the ship, narrate your journey and point out the best sights along the way, throughout the day.
Vancouver, BC
Cruises from Vancouver can take you to amazing destinations but you shouldn't miss the opportunity to experience the city's own delights. Relaxed, cultured Vancouver is consistently rated one of the finest cities in the world.
We will dock directly in downtown, where a thick cluster of crystal skyscrapers is framed by pine-covered mountains. Snack your way through the bounty of British Columbia in a food-filled public market, and meet local artists in their studios. It's easy to get around artsy Gastown, lush Stanley Park and downtown's museums
excursions
While superlatives strive to convey the grandeur of Alaska, they never quite manage to capture the reality. Experience the best Whale Watching, Dog Sledding, Helicopter Flightseeing, Floatplane Flightseeing, City Tours, Glacier Tours, Zip Lining and more.
Wales and bears and eagles... Oh, My!
Whale watching is one of the most popular excursions in Alaska, but you'll see wild life and sea creatures everywhere you go.
You won't need to take an excursion to see an abundance of wildlife in Alaska.
Salmon & Crabs & more Salmon...
Alaskan's cold water seafood is the centerpiece of Alaskan cuisine. Alaskan Salmon is one of the most important foods here and is often served as smoked salmon, cured salmon, salmon jerky, and even sweetened indian salmon candy.
Adventure awaits
Do you crave real adventure? If so, you can hike glaciers, sightsee in a floatplane, go dogsledding or kayak on a mountain lake. There is no place in America with so many exciting opportunities for thrill seekers.